biography
Lucien V. Sebastian is a queer artist born and raised in Albuquerque, New Mexico and currently practicing in Santa Fe, New Mexico whose work challenges the expectations of queer identity and what it means to be a transgender man through the manipulation of photographic prints and the convergence of the natural landscape and the human body. He has exhibited work in both group and solo exhibitions throughout New Mexico, including but not limited to Strata Gallery, The Mothership, and John Sommers Gallery, as well as online publications such as Marias at Sampaguitas, The Racket, GUTS, and more. He is the author of numerous zines and short memoirs. Lucien graduated from the University of New Mexico with a Bachelor's of Fine Arts summa cum laude and with honors summa cum laude in 2023. He was asked to be the student speaker at the UNM Fine Arts Convocation, as well as placing as one of five Covington-Rhode Finalists.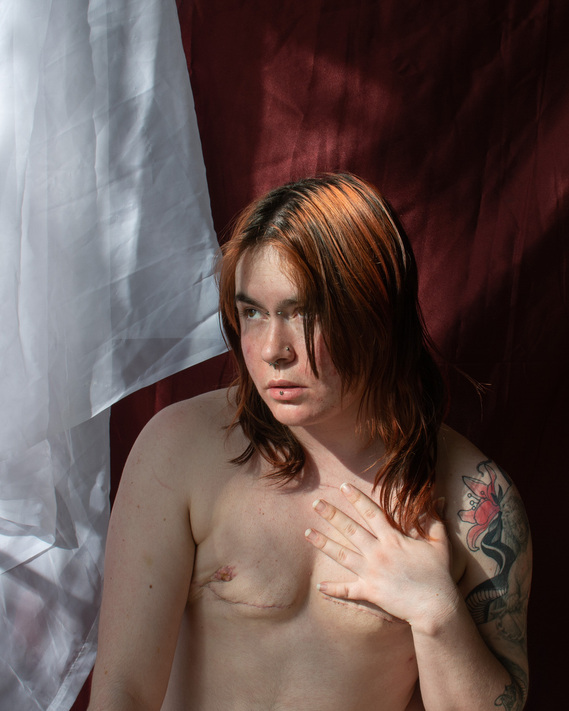 artist statement
My art exists as my diary, a method for me to catalog to gradually understand my experiences with the world around me. As a transgender man, I find chaos and peril externally and internally, with little space for refuge. It is difficult to exist in this world. My practice allows me to navigate my life by my own terms - I can take, and relinquish, control as I see fit.
An act of control - I use my camera to capture the world around me, finding sanctuary in moments of light thought to be otherwise insignificant, I find myself in the growth, death, and regrowth of the natural world as the seasons pass, I save moments of joy with and of those around me to cherish these memories when times become rough. This process extends beyond the lens, as the materiality of my practice is integral. My hand, human intervention, is present in my body, and thus I want it to be present in my art. Whether this is through the utilization of intimacy or by engaging with the photographic print through means of destruction, addition, experimentation, and installation, I want to touch my work directly and thus give it life.
A relinquishing of control - when I rip my photographs, when I nail them, when I wash them with chemicals or move them along a scanner, I subject myself to whatever outcome there shall be. There are factors I can no longer control once my work exits the realm of the digital and enters into this physical space, much like how I cannot control the way I am received by those around me. There is fear and joy all bundled into one, a catharsis reached through these actions, and I only hope to reach those who view my work in a way that encourages them to take on their own struggles and triumphs and to know they are not alone.
The presentation of my work and how it takes up space is a fact that cannot be overlooked. There is openness to chance when I install a work, as I enter the space with the plan to respond to the environment and atmosphere present. My art seeks to coexist within the physical in a way that takes up space unapologetically, authentically, while declaring that it belongs.
That I belong.
solo/two person exhibitions
2023 MEA CULPA!, a BFA Honors Thesis Exhibition, John Sommers Gallery,
Albuquerque, NM
2023 dandelion, Spectra Gallery, Albuquerque, NM
2022 Arsenal, John Sommers Gallery, Albuquerque, NM
2022 Nothing About Us Without Us, ARTSunexpected, Student Union Building,
Albuquerque, NM
group exhibitions
2023 Never > Later, University of New Mexico Output Lab, Albuquerque, NM
2023 Multinamed, Exhibition + print & photobook sale,, Zendo Coffee, Albuquerque, NM
2023 Covington-Rhode Award Finalist Exhibition, John Sommers Gallery, Albuquerque,
NM
2023 Ephemerality, Strata Gallery, Santa Fe, NM
2023 Concrete Tenderness, a Juried Exhibition, John Sommers Gallery, Albuquerque,
NM
2022 Against the White Cube, John Sommers Gallery, Albuquerque, NM
2022 - cont. Humans will be Humans, UNM Arts Building, Albuquerque, NM
2022 F-ucking Stop, Mothership Alumni, Albuquerque, NM
2022 Presence, Strata Gallery, Albuquerque, NM
2021 Open/No Theme, Contemporary Art Gallery Online
2021 Painted Patterns, John Sommers Gallery, Albuquerque, NM
awards
2023 One of five Covington-Rhode award finalists
2023 Concrete Tenderness 2023 Undergraduate Juried Exhibition 2nd Place Winner
2022 - 23 UNM Fred & Rose Ellen Calkins Scholarship
2022 - 23 UNM Jane Sorenson Redd Art Studio Scholarship
2021 - 22 UNM Lynnie Wiencke Art and Art History Scholarship
2020 - 21 UNM Predicanda De Geer General Scholarship
2020 - 22 UNM Ada Wester Fine Art Endowment Scholarship
2019 - 20 UNM Nancy and Howard Stump Endowed Scholarship
2019 - 23 UNM Woodward Scholarship
publications
2023 Hide Anymore and Ashamed, Afraid, Made featured in 2023 Scribendi
release, April 14th, 2023
2023 Your Wants featured as cover page for 77th The Racket Edition, 2023, February
23rd, 2023
2023 Beyond the Veil Press, We Apologize for the Inconvenience, Beyond the Veil
Press, Online and Print, February 15th, 2023
2023 Blue Daisies Journal, Whilst, Blue Daisies Journal, Online and Print, January 27th,
2023
2022 Roy, Zara, UNM artist subverts the sacred and explores queerness through
photography, Daily Lobo, Albuquerque, NM, October 24th
2022 Marías at Sampaguitas, Camp, Marías at Sampaguitas Online Magazine, Online
and Print, June 2022
zines
2022 Sebastian, Lucien V., Euphoria Euphoria EUREKA!, Albuquerque, NM (one edition)
2022 Sebastian, Lucien V., I Am All That Remains, Albuquerque, NM (one edition)
2022 Sebastian, Lucien V., Fruit, Albuquerque, NM (30 editions)